Brokers with a strong love for Almere
A new city has emerged near Amsterdam: Almere. Almere is currently the fastest growing municipality in the Netherlands, and with good reason. In Almere you can enjoy peace and space, with beautiful waters and beautiful nature reserves for long walks and relaxation. Selling your house in Almere is best done with a real estate agent who has in-depth knowledge of the city. Bieden en Wonen Makelaars Almere is happy to help you sell your house, in a transparent matter and under the best conditions possible.
Our office in Almere
Guus Gelukstraat 20
1336 ZK Almere
036-2002289
almere@biedenenwonen.nl
Opening hours
Mon – Fri from 9:30AM to 5:30PM
Due to the Covid-19 rules by the RIVM it is also possible to do appointments via Zoom and Google meetings online.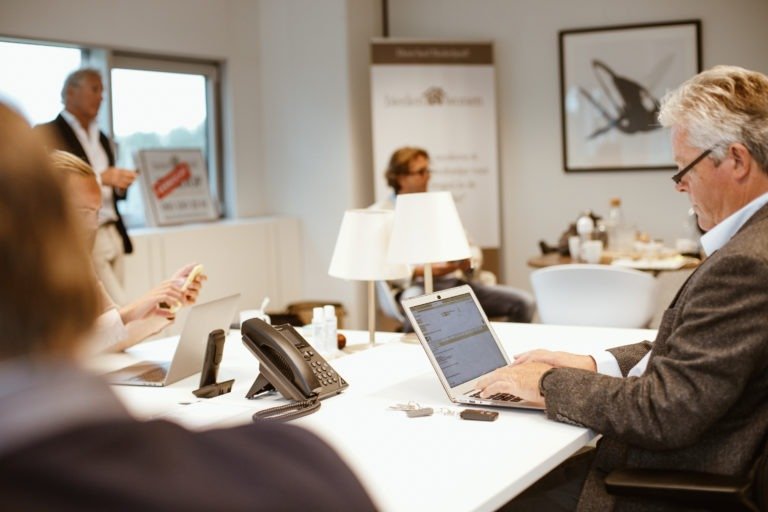 The Bieden en Wonen team, ready to help you.
Our working area
The working area of Bieden en Wonen Makelaars Almere covers Almere Stad, Almere Haven, Almere Buiten, Almere Hout, Almere Poort and Oosterwold.
Selling your house in Almere, starting from € 1495*
With us you determine the degree of involvement in the sale. Choose the Samen Doen package to do the viewings yourself. Would you rather sit back while we arrange everything for you? Then choose the Laten Doen package. We charge € 475 start-up costs in advance for both packages. For this you will receive the home recording, photography, an official NEN 2580 measurement report and 2D floor plans. You pay the remaining amount afterwards, when your house has been sold.
| | Samen Doen package | Laten Doen package |
| --- | --- | --- |
| Viewings | | |
| Advertisement text | | |
| Bieden en Wonen bidding platform | | |
| Property intake and valuation | | |
| Social media promotion | | |
| Property presentation (photography, floor plans and NEN 2580 measurement report) | | |
| Advertisement on funda | | |
| Negotiations by broker | | |
| Drawing purchase agreement | | |
| 24/7 helpdesk | | |
| Inspection and key hand-over | | |
| | €1495* | quotation** |
* 475 euro start-up costs excluded
** for this package we are happy to make a tailor-made quotation. Click here for a quotation inquiry
What is my home in Almere worth?
Curious about the current value of your home in Almere? Fill out the online value report to get a free indication of the value of your home. This will take about 2 minutes.
Cup of coffee?
Need help choosing? Would you like a tailor-made offer? Would you like to receive a valuation for your home? As real estate agents from Almere, we are on top of the latest developments in the market and we know what is going on. We are happy to receive you (or speak to you remotely) to advise you without obligation and free of charge.
Due to the current measures, it is also possible to schedule an introductory meeting remotely via Zoom or Google Meet.